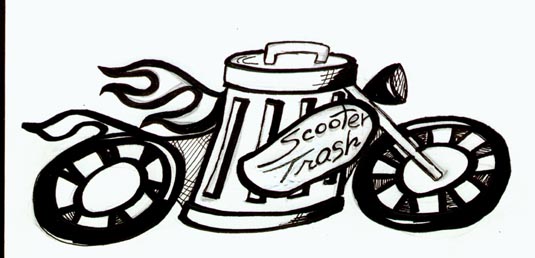 WHAT WOULD BE DIFFERENT IF BILL GATES WERE A BIKER

( I FEEL A LOT OF THESE THINGS WOULD BE IMPROVEMENTS)

THEIR #1 PRODUCT WOULD BE MICROSOFT  WINDERS

INSTEAD OF AN HOURGLASS ICON YOU WOULD GET A EMPTY BEER BOTTLE

OCCASIONALY YOU WOULD BRING UP A WINDOW COVERED WITH A TRASH BAG.

DIALOG BOXES WOULD GIVE YOU A CHOICE OF  AHH-IGHT OR NAAA

INSTEAD OF TA-DA THE OPENING SOUND WOULD BE "ON THE ROAD AGAIN"

THE RECYCLE BIN IN WINDOWS WOULD BE AN OUTHOUSE

WHEN YOU PULLED UP THE SOUND PLAYER YOU WOULD HEAR A DRUNKEN                                                  REDNECK YELLING  YEE-HAAA

THE WINDOWS THEAM SONG WOULD BE "BORN TO BE WILD"

THE WINDOWS LOGO WOULD INCORPORATE THE CONFEDERATE FLAG.

MICROSOFT WORD WOULD BE JUST THAT: ONE WORD.

NEW SHUTDOWN WAV: Y"ALL COME BACK NOW, YAH HEAR?

INSTEAD OF LATTE CARTS WE'D HAVE HOT DOG CARTS

MICROSOFT BIG SHOTS WOULD BE CALLED "CUZ" OR "BRO"

FOUR WORDS: OUTLAW BIKER SCREEN SAVER

MICROSOFT CEO:  BUBBA GATES

YOU MIGHT BE HIGH TECH SCOOTER TRASH IF

YOUR E-MAIL ADDRESS ENDS IN "SCOOTER-TRASH.COM"

YOU CONNECT TO THE WEB USING A "DOWN HOME PAGE"

THE STICKER ON YOUR LAPTOP SAYS "PROTECTED BY SMITH                                AND WESSON"

YOUR TEE SHIRT READS "AOL SUCKS" INSTEAD OF "HELMENT                                LAWS SUCK"

YOUR COMPUTER IS WORTH MORE THAN YOUR BIKE IS.

YOUR WIFE SAYS "EITHER THE COUPUTER GOES OR SHE DOES",

                       AND YOU STILL DON'T MISS HER.

YOU HAVE EVER USED AN AOL CD-ROM AS A BEER COASTER

YOU REFER TO YOUR COMPUTER AS "LU LU",  "SLUT" OR "BITCH"

YOUR SCREEN SAVER IS A BIT MAP OF YOUR HARLEY

YOU START MOST OF YOUR E-MAILS WITH "HOWDY YA'LL" OR                                "HEY BUBBA"

SCOOTER TRASH GUIDE TO COMPUTER LINGO

"HARD DRIVE"

          RIDING IN THE SNOW WITH BIG MAMA ON THE BACK

"KEYBOARD"

           A PLACE TO HANG YOUR  MOTORCYCLE KEYS

"WINDOW"

           A PLACE TO TAPE A TRASH BAG

"FLOPPY"

           WHEN YOU RUN OUT OF POLYGRIP

"MODEM"

            HOW YOU GET RID OF DANDELIONS

"ROM"

            DELICIOUS WHEN MIXED WITH COCA COLA

"BYTE"

            FIRST WORD IN A KISS OFF PHRASE

"REBOOT"

            WHAT YOU DO WHEN YOUR OLD ONES WEAR OUT

"NETWORK"

            ACTIVITY TO GET BAIT FOR A TROUT LINE

"LAN"

            TO BORROW AS IN, "HEY BUBBA LAN ME YOUR BIKE"

"BIT"

         A WAGER AS IN "I BIT YOU CAN'T MAKE IT WITH THAT                        BLOND OVER THERE"

"PACKET"

          WHAT YOU DO TO YOUR SADDLE BAG BEFORE A TRIP

"CURSOR"

          WHEN YOUR LADY MAKES YOU MAD, WHAT YOU DO AS                    SOON AS SHE LEAVES THE ROOM.

"MOUSE"

          FUZZY, SOFT THING YOU PUT IN YOUR BEER INORDER TO                 GET A FREE CASE