PVT..9TH. VIRGINIA CALVERY REGIMENT

DIED 11-15-1933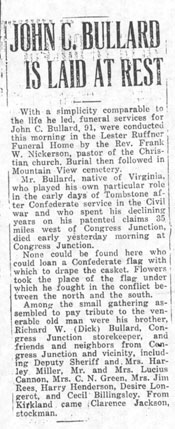 THE ARIZONA JOURNAL MINER NOV. 16, 1933.

RIGHTS PLANNED FOR INDIAN SCOUT

JOHN BULLARD 91, DIES AFTER COLORFUL CAREER

FINAL RIGHTS FOR JOHN BULLARD, 91, INDIAN SCOUT, PERSONAL FRIEND OF GENERAL ROBERT E. LEE OF THE CONFEDERATE ARMY WHILE A CAPTAIN IN THE SERVICE, WILL BE HELD AT THE LESTER RUFFNER FUNERAL HOME AT 11 A.M. TODAY.

THE VETERAN OF SEVERAL WARS AND PROMINENT IN MINING CIRCLES OF THE COUNTY DIED AT HIS HOME IN CONGRESS JUNCTION YESTERDAY MORNING, AFTER SEVERAL YEARS OF SENILITY.

BULLARD CAME TO ARIZONA IN 1876 AND SETTELED IN TUMBSTONE,THEN THE BOOM MINING TOWN OF THE STATE. A FEW YEARS LATER HE REMOVED TO YAVAPI COUNTY.

FOUND MINE

HE AND HIS BOTHER, RICHARD BULLARD, WERE ASSOCIATED IN CATTLE RANCHES AND IN MINING UNTIL THE OLDER BULLARD'S DEATH. THEY LOCATED THE FAMED BULLARD MINE IN THE HAKAWAS RANGE.

BULLARD WAS BORN APRIL 1, 1842, IN VIRGINIA.

HE IS SURVIVED BY THE BROUTHER AND FOUR SISTERS IN THE IMMEDIATE FAMILY. THE SISTERS LIVE IN PINE BLUFF, ARK. AND EL CAJON, CALIF.