CI HAVE BEEN ASK MANY TIMES, WHY I WEAR A DERBY. MY DERBY IS MORE THAN AN OUTDATED HAT, IT IS A SYMBOL OF MY FRIENDS, FAMILY AND ANCESTORS ,WHO WITH BRAVERY HAVE FACED AND MET THE GRIM REAPER. THEY HAVE MET HIM FACE TO FACE , SOME IN THE FIRE AND HELL OF WAR AND SOME IN A QUIET DIGNIFIED DEATH.  THE STORY OF MY DERBY IS A SALUE TO SOME OF THEM AND A TRIBUTE  TO ALL.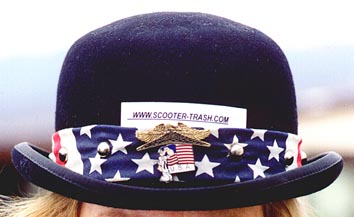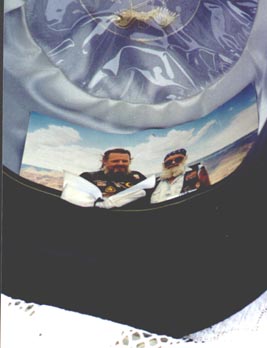 MY DERBY FIRST BELONGED TO A STRONG AND BRAVE MAN NAMED FRITZ HERRICK A.K.A. " THE JESTER". AN EX-MARINE HE WAS ONE OF THE MARINES WHO WALKED OUT FROM THE FROZEN CHOSEN RESERVIOR DURING THE KOREAN WAR. HE BECAME A MENTOR AND FATHER FIGURE TO MANY YOUNG BIKERS AND A GREAT FRIEND TO MANY OTHERS. WHEN HE DIED I LOST TRACK OF THE DERBY FOR A WHILE. ABOUT TWO YEARS LATER I SAW ANOTHER FRIEND ,                                            STICKS, A VIET NAM VET

                                WITH THE DERBY ON.

                                I TOLD HIM OF MY LOVE                                      FOR THE HAT AND MY                                         DESIRE FOR IT WHEN

                                JESTER DIED. TO MY                                           SUPRISE A FEW DAYS

                                LATER HE GAVE ME THE

                                DERBY AS A GIFT.

                                NOTHING ON THE DERBY

                                IS THERE BY ACCIDENT

THE DERBY IS JESTER

THE FLAG IS STICKS AND THE AMERICAN MOTORCYCLE CLUB.

THE  " PI PI PIN" IS FOR JACK ROSCO.

THE WALL PIN IS FOR ALL THE VETS THAT HAVE EVER SERVED.

I PROUDLEY WEAR IT AS A

TRIBUTE TO ALL THESE

AND WHEN THE GRIM

REAPER CALLS FOR ME, I WILL

PASS THE DERBY ON TO A YOUNG BIKER THAT WILL CARRY ON THE TRADITION.                                

THIS IS PART OF THE SCOOTER-TRASH GROUP OF PAGES

Click here to add your text.

Click here to add your text.

I AM REBEL BORN

AND

REBEL BRED

AND

WHEN I DIE

I WILL BE

REBEL DEAD