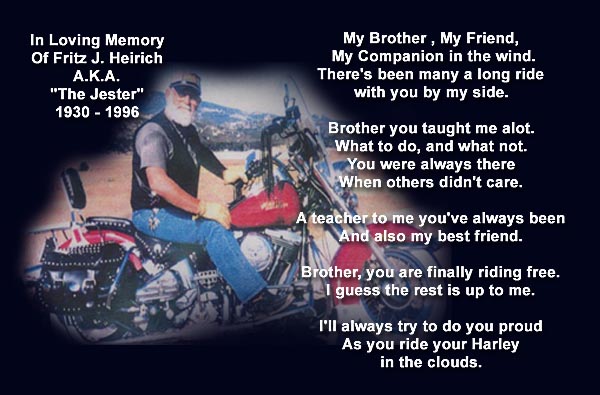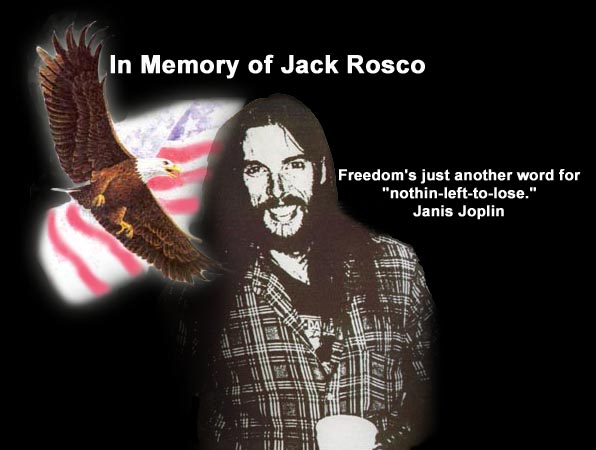 MY HEROES HAVE ALWAYS BEEN COWBOYS, AND THEY STILL ARE IT SEEMS.THESE HONKY TONK ANGLES ARE MY HIGH RIDING HEROES.

CJESTER WAS A FOUNDING MEMBER OF THE ROUGH RIDERS M.C.

HE WAS AN EX. MARINE AND A MEMBER OF THE "CHOSEN FEW"

THE MARINE REGIMENT THAT FOUGHT THERE WAY OUT FROM THE CHOSEN RESERVIOR DURING THE KOREAN WAR.

HE WAS A FRIEND TO ALL BIKERS AND A MENTOR TO MANY YOUNG MEN. HE LOVED TO JOKE AND HAVE FUN BUT WAS ONE OF THE MOST HONEST AND SINCERE MEN THAT GOD EVER CREATED.

JESTER

I HAVE YOUR DERBY NOW AND WILL TRY TO KEEP THE SPIRIT ALIVE

JACK RODE MORE MILES IN A YEAR THAN MOST BIKERS WILL RIDE IN A LIFETIME. A MEMBER OF THE "AMERICANS MC" HE WAS DEDICATED TO HELPING OTHERS. HE WAS CALLED FROM US MUCH TO EARLY IN LIFE. HE HAD A WAY OF BRINGING OUT THE BEST IN ALL OF THOSE AROUND HIM.

JACK MY FLAG WILL ALWAYS FLY FOR YOU.


A LITTLE OVER 30 YEARS AGO OVER 58,000 YOUNG MEN DIED IN A WAR THAT THEIR CONTRY WOULD NOT LET THEM WIN. THESE BRAVE MEN WERE NOT FIGHTING FOR A GOVERNMENT THAT LIED TO THEM OR A PUBLIC THAT CURSED AND SPIT ON THEM. THEY WERE FIGHTING OR FREEDOM AND FOR EACH OTHER.

TO ALL OUR VETERANS OF ALL OF OUR WARS YOU ARE MY HEROES AND I SALUTE YOU.