BORN 12-17-1834

IN VERMILLION, ILL.

DIED 1-7-1916 IN PRESCOTT

ARIZONA TERRITORY

MARRIED  IN 1858 IN TEXAS TO

MARY JANE CHOWNING

BORN 1845 IN ILL.

DIED 2-9-11 ON RITTER RANCH

IN ARIZONA TERRITORY

BOTH ARE BURIED IN RITTER FAMILY PLOT

SIMMONS CEMETERY, PRESCOTT,AZ.

THE RITTERS SETTELED NEAR WHAT IS NOW

KIRKLAND,AZ.

THEY WERE SOME OF THE FIRST

SETTLERS IN THE AREA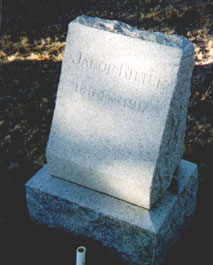 FROM THE ARIZONA JOURNAL MINER JAN. 9, 1916

JACOB RITTER WAS ONE OF THE BEST KNOWN OF THE EARLY DAY PIONEERS, WHO FOLLOWED CATTLE RAISING AS FAR BACK AS 1870. HIS REMARKABLE PHYSICAL ABILITY ENDURED TO WITHIN A FEW YEARS AGO,AND HIS DEATH WAS DUE TO AN INTERNAL AFFLICTION AFTER MEETING WITH AN ACIDENT WHILE RIDING THE RANGE WHEN NEARING HIS 80TH.YEAR. MR. RITTER WAS A TYPE OF THE RUGGED PIONEER WHO HAD A GOOD WORD AND CHEERFUL GREETING FOR ALL. HE WAS CLEAN AND HONORABLE IN ALL BUSINESS DEALINGS, AND THE HOSPITALITY OF HIS OLD HOME ON DATE CREEK, KNOWN FAMILIARY AS THE STONE HOUSE, ALWAYS HAD A DOOR OPEN TO FRIENDS AND STRANGERS, IT'S HOSPITILATY BEING EXTENDED TO MANY IN THAT DANGEROUS REGION DURING INDIAN DAYS. HE WAS BORN IN VERMILLION CO. ILLINOIS, 82 YEARS AGO AND CAME TO ARIZONA FROM TEXAS IN 1870. HE SERVED DURING THE CIVIL WAR WITH THE CONFEDERACY, BUT IN LATER YEARS WAS MAGNAIMOUS IN EXPRESSING HIMSELF OVER THE CAUSES WHICH LED TO THIS UNFORTUNATE CONFLICT.