WE'RE HERE FOR A GOOD TIME NOT A LONG TIME

ClME AND MY TRUE LOVE IN DURANGO CO.

CI'AM BUDDY A BIKER FROM NORTHERN ARIZONA. JO ANNE AND I FIRST MET IN THE SPIRIT ROOM BAR IN JEROME. MY SECOND HOME. I AM FROM THE RED NECK COUNTRY AROUND FORT WORTH TEX. WHILE JO ANNE CAME FROM THE MODELING  WORLD OF SOUTHERN CALIFORNIA.  I WAS THE MAN HER MOTHER WARNED HER ABOUT.  THE FIRST BIG RIDE WE HAD TOGETHER, WE LEFT SEDONA AZ. AT 6 IN THE AFTERNOON AND RODE STREIGHT THRU TO DURANGO CO. , STOPPING ONLY FOR GAS. IT WAS COLD AND DARK AS WE ROARED ACROSS INDIAN COUNTRY, ARRIVING IN DURANGO AT APPX. 1:30 IN THE MORNING. TO MY SURPRISE, JO ANNE NEVER COMPLAINED UNTIL WE ARRIVED. HER ASS WAS SORE FOR A WEEK. I KNEW RIGHT THEN THAT SHE WAS A KEEPER.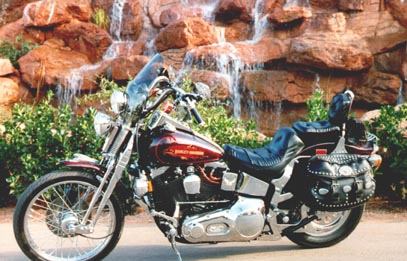 LU LU

THE OTHER WOMAN IN MY LIFE.

CTHIS IS LULU, MY 1991 SPRINGER. SHE HAS TAKEN ME  OVER 100,000 MILES. SHE HAS BEEN RODE HARD AND  PUT UP WET BUT IS STILL A HELL OF A RIDE.

OVER THE YEARS, I HAVE BEEN THRU 27 MOTORCYCLES. FROM MY FIRST 1963 SUZUCI X6 HUSTLER UNTIL NOW, I  HAVE ENJOYED THEM ALL. I HAVE MADE  MANY FRIRNDS OVER THE YEARS. FROM THOSE FIRST ONES IN TEXAS, IN THE STUMP JUMPERS MC. UNTIL THOSE THAT I HAVE NOW. I SALUTE YOU, YOU ARE THE GREATEST.

I HAVE SURVIVED ENDUROS, TT RACES, SCRAMBLES, MOTOR CROSSES AND MANY MILES OF ROAD AND I HAVE ENJOYED THEM ALL.

CHARLEY DAY

WIND IN THE FACE

STYLE -- GRACE

STEEL, CHROME, LEATHER

HANGING TOGETHER

THE SOUND -- LIKE A SMILE

FROM WITHIN - I GRIN

SUNSHINE OR SHOWERS

I WON'T TRADE THOSE HOURS

RIDING - JUST FEELING FREE

IT'S IMPORTANT, I DO THIS FOR ME.

MOUNTAIN, DESERT, CITY OR PLAIN

RIDES ALL THE SAME

I'M RIDIN - I'M HIGH

I'M STILL GETTING BY

FUCK IT - I'LL RIDE TIL I DIE!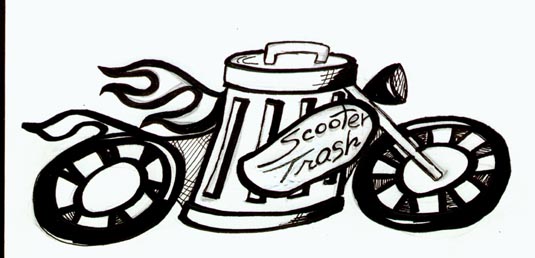 CPLEASE CHECK OUT THE LINKS ABOVE TO MY OTHER PAGES