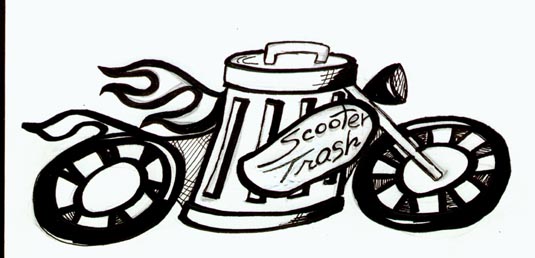 SCOOTER TRASH WEDDING NIGHT

THIS SCOOTER TRASH GUY MARRIES A SWEET YOUNG THING. THEY GO TO THE MOTEL AFTER THE CEREMONY, AND SHE CHANGES INTO A SEXY NIGHTGOWN, LIES ON THE BED, AND SAYS "BE GENTLE WITH ME I'M A VERGIN."

AT THIS THE BIKER BURST INTO TEARS, PULLS ON HIS CLOTHES, GETS ON HIS BIKE, AND RIDES HOME. HE TELLS HIS FATHER WHAT HAPPENED.

"SON YOU DONE RIGHT ," SAYS HIS POP.  "IF SHE WEREN'T GOOD ENOUGH FOR HER OWN FAMLIY, SHE AIN'T GOOD ENOUGH FOR OURS."

LUNCHTIME BLUES

AN IRISHMAN, A MEXICAN AND A SCOOTER BUM WERE DOING CONSTRUCTION ON SCAFFOLDING OF A TALL BUILDING. THEY WERE EATING LUNCH AND THE IRISHMAN SAID, "CORNED BEEF AND CABBAGE ! IF I GET CORNED BEEF ONE MORE TIME FOR LUNCH, I'M GOING TO JUMP OFF THIS BUILDING."

THE MEXICAN OPENED HIS LUNCH  BOX AND EXCLAIMED,

"BURRITOS AGAIN!!! IF I GET BURRITOS AGAIN I'M GOING TO JUMP OFF TOO."

THE BIKER OPENED HIS LUNCH AND SAID,

"BOLOGNA AGAIN,  IF I GET A BOLOGNA SANDWICH ONE MORE TIME, I'M JUMPING TOO."

NEXT DAY THE IRISHMAN OPENS HIS LUNCH , SEES CORNED BEEF AND JUMPS TO HIS DEATH.  THE MEXICAN OPENS HIS LUNCH, SEES A BURRITO AND JUMPS TO.  THE BIKER OPENS HIS, SEES THE BOLOGNA, AND JUMPS TO HIS DEATH AS WELL.

AT THE FUNERAL, THE IRISHMAN'S WIFE IS WEEPING. SHE SAYS, "IF I HAD KNOWN HOW REALLY TIRED HE WAS OF CORNED BEEF, I NEVER WOULD HAVE GIVEN IT TO HIM AGAIN."  THE MEXICANS WIFE ALSO WEEPS AND SAYS, " I COULD HAVE GIVEN HIM TACOS OR ENCHILADAS!!  I DIDEN'T

REALIZE HE HATED BURRITOS."

EVERYONE TURNED TO THE BIKERS WIFE.  "HEY DON'T LOOK AT ME," SHE SAID.  "HE FIXES HIS OWN LUNCH."

LETTER FROM HOME

DEAR BIKER SON,

I'M WRITING THIS LETTER SLOW BECAUSE I KNOW YOU CAN'T READ FAST.

WE DON'T LIVE WHERE WE DID WHEN YOU LEFT HOME. YOUR DAD READ IN THE PAPER THAT MOST ACCIDENTS HAPPEN WITHEN 20 MILES OF HOME, SO WE MOVED.

I WON'T BE ABLE TO SEND YOU THE ADDRESS BECAUSE THE LAST BIKER FAMILY THAT LIVED HERE TOOK THE NUMBERS SO THEY WOULDN'T HAVE TO CHANGE THEIR ADDSESS.

THIS PLACE IS REALLY NICE. IT EVEN HAS A WASHING MACHINE.  I'M NOT SURE IT WORKS SO WELL THOUGH: LAST WEEK I PUT A LOAD IN  PUSHED THE HANDLE AND HAVEN'T SEEN THEM SINCE.

THE WEATHER ISN'T BAD HERE. IT ONLY RAINED TWICE LAST WEEK; THE FIRST TIME FOR THREE DAYS AND THE SECOUND FOR FOUR DAYS.

ABOUT THAT COAT YOU WANTED ME TO SEND YOU,  YOUR UNCLE TINY SAID IT WOULD BE TO HEAVY TO SEND WITH THE BUTTONS ON, SO I CUT THEM OFF AND PUT THEM IN THE POCKETS.

JOHN LOCKED HIS KEYS IN THE CAR YESTERDAY. WE WERE REAL WORRIED BECAUSE IT TOOK HIM TWO HOURS TO GET ME AND YOUR FATHER OUT.

YOUR SISTER HAD A BABY THIS MORNING; BUT I HAVEN'T FOUND OUT WHAT IT IS YET SO I DON'T KNOW IF YOU ARE A AUNT OR AN UNCLE. THE BABY LOOKS A LOT LIKE YOUR BROTHER.........

THREE OF YOUR FRIENDS WENT OFF A BRIDGE IN A PICKUP.

BUBA WAS DRIVING, HE ROLLED DOWN THE WINDOW AND SWAM TO SAFETY. YOUR OTHER TWO FRIENDS WERE IN BACK. THEY DROWNED BECAUSE THEY COULDN'T GET THE TAILGATE DOWN.

THERE ISN'T MUCH MORE NEWS AT THIS TIME. NOTHING MUCH HAS HAPPENED.

LOVE, MOM

P.S.   I WAS GOING TO SEND YOU MONEY BUT THE ENVELOPE WAS ALREADY SEALED.