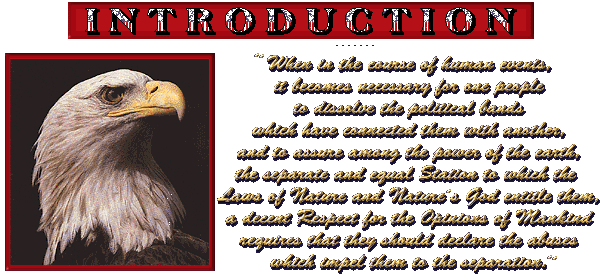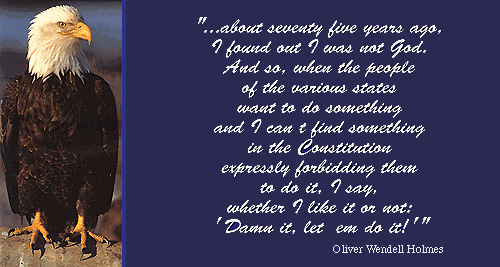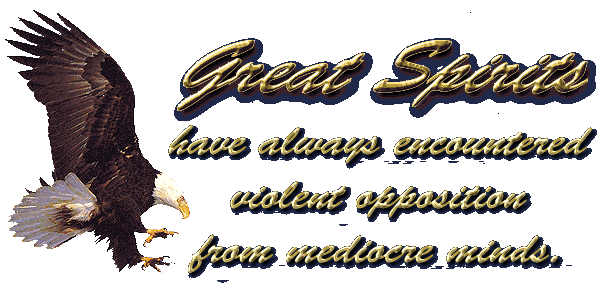 WHEN I WAS MUCH TO YOUNG TO UNDERSTAND I WAS LOCKED IN A ROOM WITH 30 OTHER KIDS AND TOLD TO LEARN WHAT IS NOW CALLED THAT

"THOMAS JEFFERSON, JOHN ADAMS CRAP"

NOW, I AM TOLD THAT I MUST FORGET IT ALL OR RISK BEING LOCKED IN A MUCH SMALLER ROOM ALL ALONE.

OUR FORFATHERS TOOK SEVERAL YEARS TO ESTABLISH A GOVERNMENT THAT HAD LIMITED POWERS. THEY BELIEVED THAT THE RIGHTS OF THE PEOPLE AND OF THE STATES WERE GREATER THAN THAT OF THE FEDERAL GOVERNMENT. THEY WARNED THAT GOVERNMENT WOULD TRY TO TAKE OVER AND CONTROL ALL ASPECTS OF LIFE AND WE COULD LOOSE  THE POWER TO CONTROL IT. EVER SINCE THAT TIME OUR POWERS AND RIGHTS HAVE BECAME LESS AND LESS. THEY COULD NOT HAVE THOUGHT OF ALL THE THINGS THAT OUR GONERNMENT NOW TELL US WE MUST DO OR NOT DO. HOW COULD THEY HAVE THOUGHT ABOUT THE PERVERTED WAY THAT OUR SCHOOLS TEACH THE HISTORY OF OUR COUNTRY AND OF THEMSELVES.

OUR LEADERS HAVE FROM THE DAYS OF ABE LINCOLN, USED WARS AND OTHER TIMES OF CRISIS TO TAKE ONE POWER AT A TIME AWAY FROM THE PEOPLE. THEY DO IT UNDER THE GUISE THAT THEY MUST PROTECT THE GOVERNMENT AND US FROM OURSELVES BECAUSE WE ARE NOT SMART ENOUGH OT KNOW WHAT IS GOOD FOR US. WE MUST QUESTION EVERY LITTLE THING OUR GOVERNMENT DOES. WE MUST QUESTION IF WHAT WE ARE GAINING IS WORTH WHAT WE ARE LOOSING. JUST BECAUSE A LAW DOES NOT AFFECT YOU THAT DOES NOT MEAN YOU SHOULD NOT QUESTION IT. EVERY CHIP IN THE ARMOR OF OUR RIGHTS IS A POTENTIAL STEP TOWARDS THE LOSS OF ALL OF OUR RIGHTS.

I HOPE AND PRAY THAT ALL OF US, NO MATTER OF RACE OR CREED, WILL USE OUR BRAINS TO THINK OF WHAT IS GOOD FOR ALL OF OUR PEOPLE NOT JUST THEIR OWN LITTLE GROUP.