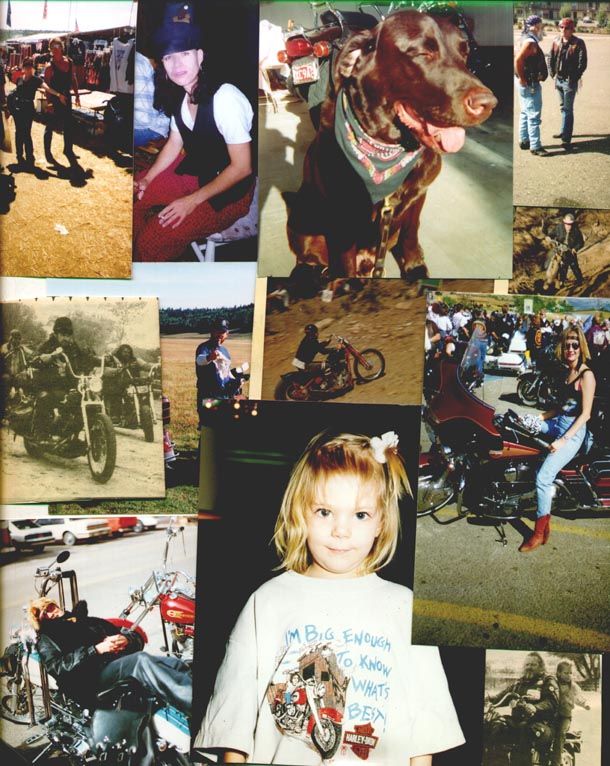 THEY CALL US TRASH BECAUSE THEY DON'T UNDERSTAND OUR WAY OF LIFE. THEY CAN NOT ACCEPT THE HONESTY OF OUR CONVICTIONS.

WE ARE NOT HARD TO FIGURE OUT WE ARE JUST WHAT YOU SEE. WE HIDE NOTHING AND DO NOT HAVE TO PROVE ANYTHING TO ANYONE.

THESE ARE MY FRIENDS, MY AMIGOES AND THEY MEAN MORE TO ME THAN ANY RICH MANS DIAMONDS OR GOLD.

A FEW DAYS AGO I WAS SETTING IN MY EASY CHAIR, WHEN I GOT UP AND PUT ON MY LEATHERS TO GO OUT WHEN MY WIFE ASK ME WHERE I WAS GOING. I TOLD HER THAT I WAS GOING TO THE DOCTOR TO GET SOME OF THAT NEW VIAGRA.

SHE TOLD ME TO WAIT UNTIL SHE COULD GET READY AND GO WITH ME.

I ASK HER IF EVERY THING WAS ALRIGHT. WHY DID SHE NEED TO GO SEE THE DOCTOR.

SHE SAID,

"IF YOU ARE GOING TO START USING THAT RUSTY OLD THING AGAIN, I NEED TO GET A TETNUS SHOT."

WE RODE THROUGH THE TOWN, PAST A FEW PEOPLE WHO WERE ON THE STREETS, PAST THE COURTHOUSE AND ITS FLAGPOLE AND ON UP THE HILL, A FEW DROPS OF RAIN ON OUR FACES. WE RODE SILENTLY,THEY WERE WATCHING ME. I COULD FEEL THEIR EYES ON ME, WAITING FOR ME TO SAY SOMETHING. BUT WE DIDN'T HAVE TO SAY ANYTHING. WE WERE ALL THINKING THE SAME BUT BEFORE WE COULD SAY ANYTHING WE WERE GOING TO NEED TO RIDE. THERE WAS NOTHING ELSE FOR US TO DO BUT RIDE, AS IF WE WERE GOING TO HAVE TO RUN AWAY FROM OURSELVES BEFORE WE COULD PULL UP AND LOOK AT EACH OTHER AND START TO TALK. IT WAS SIMPLE AND OBVIOUS AND UNCOMPLICATED BUT IT WASEN'T EASY.  OUR FRIEND HAD DIED. IT SEEMED THAT HE HAD BEEN OUR GOD AND IT WAS IF SOMEONE HAD JUST SAID THAT ALL GODS MUST DIE AND WE DIDN'T WANT TO BELEVE IT.